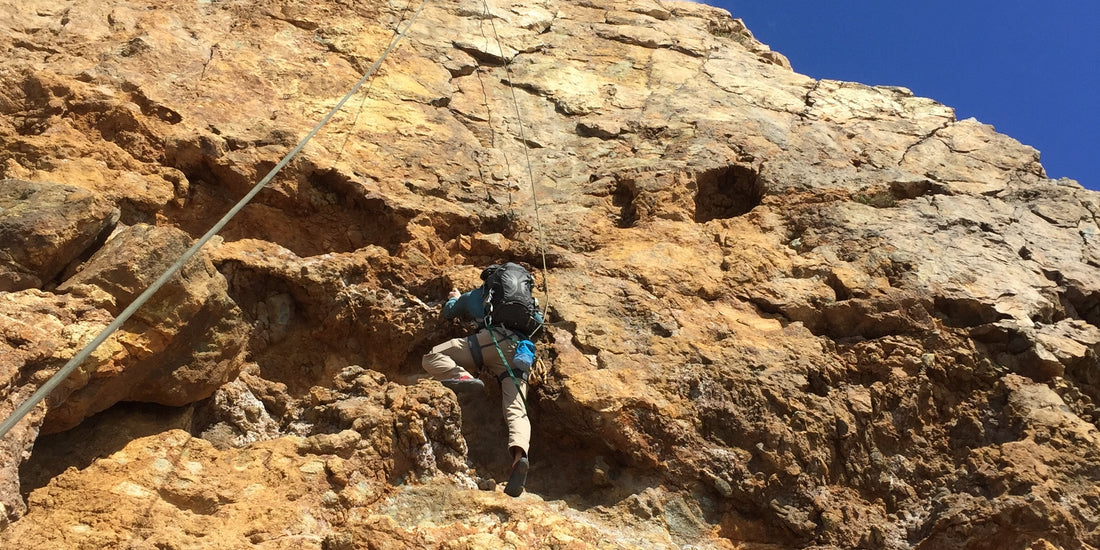 Inspiring Humans of C+M: Meet Mountain Man Woody Brown
Each month we will be showcasing interesting humans who are certain to inspire you. They are people across the United States who believe in living a full life, doing what they love, and each feels strongly about the many benefits of using hemp products. We are so excited to kick off this monthly blog series with someone who is incredibly interesting, inspiring and is a constant supporter of CAUSE+MEDIC. So without further ado, we would like to introduce you to Los Angeles native, Woody Brown - science teacher, mountain biker, climber, soccer player, surfer, triathlete, outdoor enthusiast, and all around awesome dude.
Name: Woody Brown
Location: Los Angeles
Current Title: Science Teacher
Education: BS in Environmental Studies / Masters in Sports Pedagogy / Master Gardener
CM: Let's start from the beginning. How did you get into extreme outdoor sports?
WB: I come from a very sporty and very competitive family, I basically just followed my two older sisters around and did exactly what they did - I had to keep up. I started playing soccer around the time I started to walk, and never stopped moving. I played competitive soccer and baseball in college, setting records that still stand, and eventually got into "mountain sports" through a summer camp I worked at in the Colorado Rockies. Climbing is something I started to get into because I enjoyed how it settled my mind and helped me focus on being more graceful. Mountain biking is a much more recent discovery. Though I have been biking my whole life, the challenge of going up a crazy steep ridge is the biggest thrill I currently seek. No matter what goes on in my life, moving my body has always been my number one form of therapy. I need activity and exercise just as much as I need water.  
CM: What business or career moves lead you to the role you're currently in?
WB: I was a soccer coach at my college post graduation, and eventually decided to move back home to Los Angeles with my wife, after she graduated. I was hired at the school I currently work at to be a PE teacher and coach, since I wanted to pursue coaching at the time. There were some shifts at the school and I was asked to help out in some science classes since my background is Science. After that Science teacher left, I was asked to step in. That was three years ago. I now teach K through 8th grade science, an Urban Farming elective, and manage the two gardens and greenhouse on campus.      
CM: If you had to identify one major rule to live life by, what would it be?
WB: Live as though your love will last forever.
CM: We hear you push your body pretty hard on a regular basis, how do you keep your energy up and fight any physical discomfort that may come with that?
WB: Honestly, I could do better in that department. But I do try my best to stretch, to stay hydrated, to wear sunscreen (my wife has really been on me about that), to stretch, and to incorporate a variety of activities so I don't sustain injuries or fatigue from a single range of motion. We recently discovered C+M's Hemp Pain Cream and RAD Roller, which have been helping immensely! You might think your CBD Pain Cream and good old fashioned foam roller are great, but if you haven't tried the RAD-Medic combo, then you're seriously missing out on the dream team. My body has never felt this good or worked this well!   
CM: Being outside all the time must have a big impact on your skin, how do you keep your skin looking and feeling fresh?
WB: I use sunscreen religiously, of course. My wife has taught me that that is #1 in self-care. Besides that, I use C+M's Body Butter, which helps my cells regenerate faster so I don't get that "leathery" look people often get when they're in the sun too much.   
CM: Is there anyone in particular who helps uplift and motivate you?
WB: My badass wife, Cassidy.
CM: What are some differences you notice about your body when you are using C+M products?
WB: I often will slather C+M's hemp pain cream on before bed, before any soreness really kicks in. When I do this, I wake up the next morning with no soreness or stiffness. This is so important for me since I'm with kids all day, in the gardens leaning over plant beds, and going on mountain bike rides. When I forget to do this, man, do I really regret it.
CM: Which C+M product is your favorite and why?
WB: I honestly can't choose - it's a tie between the CBD Pain Cream and Body Butter.
CM: There are so many CBD infused products on the market - why do you choose CAUSE + MEDIC?
WB: I choose Cause Medic because I like the story behind the product - I believe that because these products were made out of love, and were created with respect for the planet, they HAVE to be good. Plus, it works.