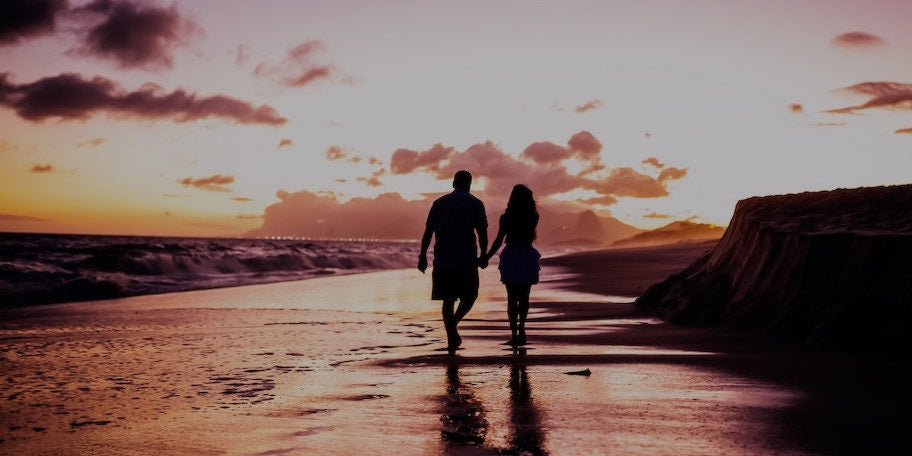 Valentine's Day Inspiration For CBD Lovers
Whether you're happily single, looking for love, or in a relationship, we know you'll fall head-over-heels for this curated list of products, services, and experiences we've created for all the CBD lovers out there; all with the end goal to help you make this Valentine's Day one you won't soon forget. While we believe love should be celebrated every day, sometimes it's nice to have that designated time, completely carved out and on the calendar, to give us that kick in the pants, and the permission to do something lovely either for yourself or for someone else. Think luxurious "Releaf" spa treatments, DIY at home CBD self-care, CBD infused craft cocktails, and let us not forget CBD aphrodisiacs to spice up the bedroom! Keep scrolling for the delicious details...we promise your time will be well-spent.
MASSAGE AND SPA INSPIRATION
First things first, let's establish that Valentine's day falls on a Thursday this year, which means it falls on a work night. That's why we're saying it's OK to book a massage or plan a nice dinner out for over the weekend but book it before V Day so you can take advantage of any deals! Here is a carefully selected list of amazing spas across the country that offer ultimate luxury, excellent services, and specialize in total relaxation.
Spa Haus Nashville's CBD Massage
Elevate your body and mind with a restorative massage at Spa Haus Nashville.
"Start off with a local CBD honey in soothing tea in our relaxation room before your service. You will then receive a 60 minute a Swedish massage with a CBD compound and massage oil. May upgrade to deep tissue or warm stone upon request."
Denver Deep's Ashiatsu Massage with CBD Oil (available to add on to any service!)
Really go deep this with a CBD, deep tissue Ashiatsu massage at Denver Deep.
"Ashiatsu is a deep compression barefoot massage where the therapist utilizes parallel bars on the ceiling for support and balance. Using gravity and body weight, the therapist can deliver a consistent deep pressure massage with the feet. The broad surface area of the foot makes the compression smooth and comprehensive.
When you choose to add a CBD treatment to your Deep Tissue Ashiatsu Therapeutic Massage session, it accelerates muscle recovery, desensitizes nerve pain and reduces anxiety. While deep tissue massage is already known as one of the best ways to eradicate stress, having a topical CBD paired with our bodywork will elevate your mood and mindset."
St. Julien Hotel and Spa's Colorado Bliss CBD Classic or Deep Tissue Massage
Experience luxury the St. Julien way with a deep tissue or classic massage with CBD Oil.
"The calming, soothing effects of CBD work in unison with massage techniques designed to quiet the mind and relax the body. Essential oils of lavender and sage aide in relaxation, which are perfect for anyone seeking a blissful escape. CBD is widely known to ease muscular tension, reduce inflammation and relieve pain. This is a perfect choice for anyone with aches and pains that require specific attention."
Elixir Mind Body Massage's "Releaf" Massage
Choose from an impressive list of massage services at Elixir - enhance with CBD Massage Oil and other tantalizing options for the full effect.  
"Elixir's hemp oil massage provides blissful relaxation and relief from pain and inflammation with this luxurious blend of nutrient-rich oils and therapeutic plant extracts, infused with 400 mg of full spectrum hemp to elevate your mind and body.  Choose from several pure essential oil blends for the perfect Aromatherapy enhancement. Your treatment includes full body exfoliation, to improve circulation and absorption of this water-soluble hemp massage oil for maximum effectiveness. Relieve anxiety and pain with this deeply calming and therapeutic service."
COCKTAILS AND DINING INSPIRATION
Sometimes it's just more romantic to just stay in. You can skip the lines, set the lighting just so, and slip into something more comfortable. ;)


To that end, here is an easy meal to make, which you can prep beforehand, that is delicious and healthy. And did we say EASY? It's also pretty adaptable to many different diets - skip the chicken, skip the pita, skip the feta, whateva ;) You can even add some CBD oil to the arugula and sun-dried tomato salad, or explore this Epicurious article for more tips! No matter what you do, it's delicious and you can't screw it up. Plus it can also feel extra exotic to eat it with your hands, perhaps feed it to your significant other...you get the idea. 
To go along with your exotic Mediterranean meal, try this CBD infused take on a gin and tonic to really relax and unwind after a long day at work, without getting sloppy. CBD has a lot of beneficial properties for the body, and when used in a cocktail give a mellow, relaxed feel to the drinker. If gin isn't your thing, check out this article for more tips and recipes. 
"After Dinner" INSPIRATION  
After dinner comes chocolate. ESPECIALLY on Valentine's day. Did you know that there are a specially made CBD chocolates that are said to act as an aphrodisiac? Like these chocolates from 1906 - if nothing else, they taste amazing! That's not the only option though, check out this HuffPost article for more information about similar products (including CBD infused lubricant!) 
And to cap it all off, what could be better than a massage from home? In bed, massages often lead to...a better night's rest! Jeez, get your mind out of the gutter... just kidding, we were thinking about that too! If you aren't a professional masseuse, that's ok, because, with this incredible CBD infused massage oil by CAUSE+MEDIC, you could go pro. 
So there you have it. Valentine's Day inspiration for all the CBD lovers out there. Regardless of what you do (or don't do) on 2/14, we hope it's full of love and light.