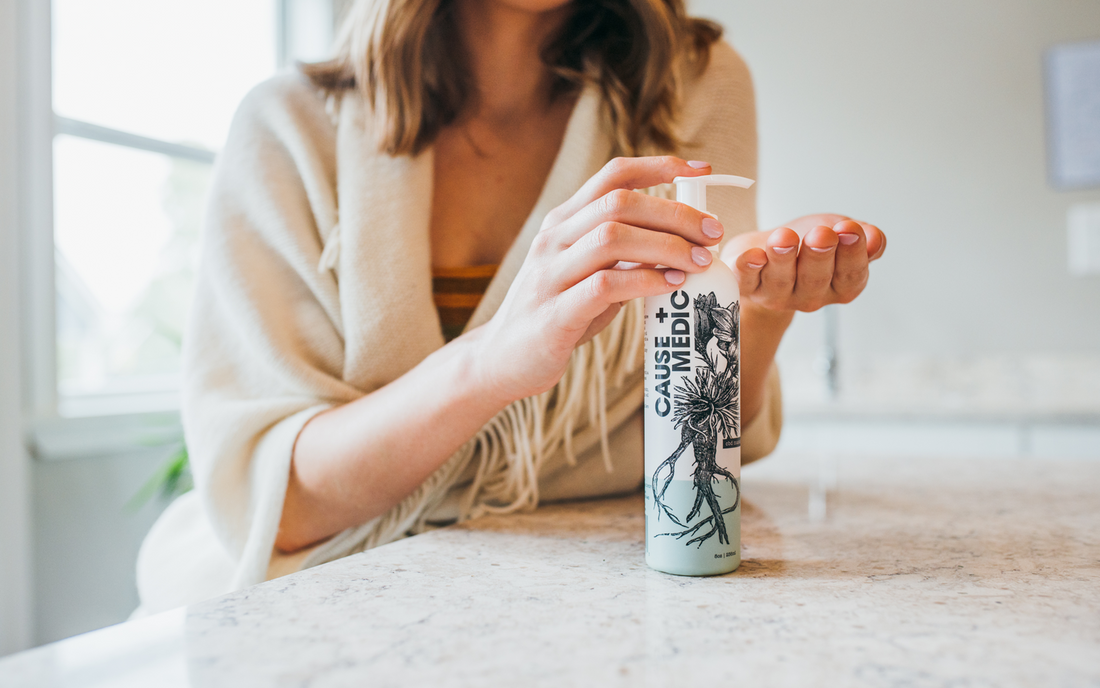 The "CAUSE" in CAUSE+MEDIC
With so many CBD brands on the market, it's important to us that you know how we are different. The name CAUSE+MEDIC is so much more than a good pun. From the way we grow our hemp, to our patent pending water-soluble application, and our commitment to giving back, we want you to know when you choose CAUSE+MEDIC, the philosophy behind your choice is so much more than skin deep. Our three main CAUSES are our company ethos and we would like to share our core values with you: environmental responsibility, responsible pricing and corporate responsibility.
ENVIRONMENTAL RESPONSIBILITY
We strive to produce a quality product while keeping the environment in mind. Our products are vegan-friendly, cruelty-free, plant-based, organic-grown and socially responsible. In fact, we use recyclable materials all the way down to our shipping tape and boxes. Everything is hand-selected to provide the very best and to have the least impact on our planet.
We have our own hemp farm!
One of the many things that separate us from other brands is that we are a vertically integrated company and have our own hemp farm in Tennessee. This provides us with control over how our hemp is grown and extracted. Hemp is an extremely absorptive plant and has been used throughout history for soil remediation and to reduce soil toxicity. For this reason, when hemp is being grown for consumption, it's important to use the cleanest and greenest practices. What the hemp absorbs is what we will be putting in our bodies.
Clean and green!
Our hemp farm boasts organic, clean soil. We use a product called Plant Aid on our soil and crops, which only contains ingredients that can be found in Mother Nature. It is made with hypochlorous acid, which in simple terms is salt water that has been electrolyzed. Plant Aid's formula can clean soil without harming it and can also clean plant leaves from dust and debris to promote effective photosynthesis. It also assists to flush out lines and tanks without the use of harsh chemicals. The focus is to keep plants, the environment and growing tools in the cleanest condition possible.
We extract our own CBD oil in a safe way
We manage the CBD oil extraction from our hemp plants and subsequently remove the THC. We use a safe and non-toxic ethanol extraction method to mine the CBD and chromatography to remove the THC. According to Leafly News, "Extractions using ethanol have evolved into one of the safest and most efficient methods for extracting CBD from hemp fiber."
RESPONSIBLE PRICING
Because we are a "farm to bottle" company, this allows us to offer responsible pricing to our consumers. By growing our own hemp and extracting our own oil, we are able to grow our own pricing. The underlying use of CBD is to help people and that's why we got into this business. Keeping our costs down makes it possible to provide quality products at a low price point. While we offer luxury products, it's not in our ethos to mark up for no reason.
What's in the bottle?
As we researched and developed our formulas, we found that most CBD topicals on the market are never converted to a water-soluble form. This leaves a large portion of the CBD oil on the surface of the skin, never to be absorbed by your body, and therefore wasting the key ingredient in these products. Our CBD oil is fully water-soluble with our patent-pending process, ensuring maximum absorption. After our CBD is converted to a water-soluble form, we combine it with active botanical ingredients that work harmoniously together. All CAUSE+MEDIC products are Paraben, Sulfate and SLS-Free. Every ingredient is consciously selected, responsibly sourced, and cruelty-free. We make every effort to create a greener, more sustainable skincare regimen and believe mother nature provides the recipe.
CORPORATE RESPONSIBILITY
We value corporate responsibility and express this through philanthropy. We're proud to partner with i=Change, an organization that helps brands give back. We are one of the first American companies to partner with i=Change and the only CBD company to date. Every time you make a purchase from CAUSE+MEDIC, we give $1. You choose the charity that is most meaningful to you. Donations are sent to carefully selected projects, which mainly focus on women & girls' empowerment.
CAUSE+MEDIC: environmental responsibility, responsible pricing and corporate responsibility. When you shop with us, you shop for a CAUSE!
To learn more about individual products and to shop our product line visit causemedicated.com/shop