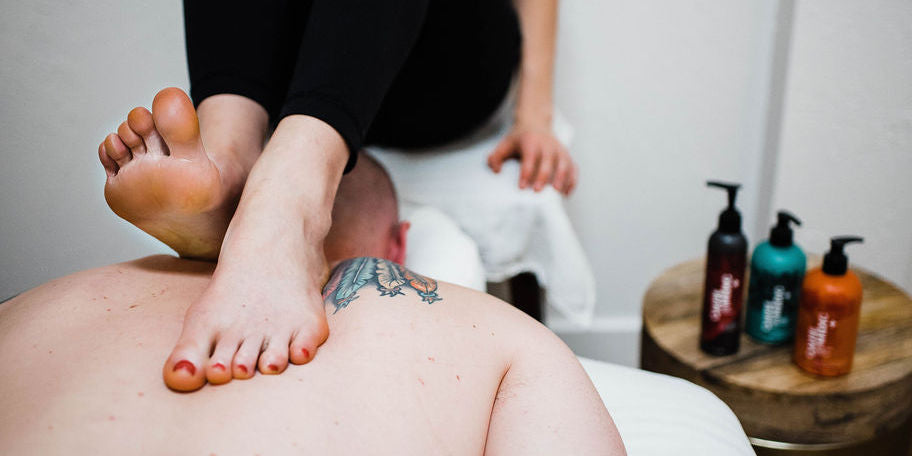 Inspiring Humans of C+M: Meet Ashiatsu Guru Patty Blake
Each month we will be showcasing interesting humans who are certain to inspire you. They are people across the United States who believe in living a full life, doing what they love, and each feels strongly about the many benefits of using hemp and CBD products. This month we would like to introduce you to someone who truly lives by what she believes - that we should never stop learning, that we should live intentionally, that personal connections matter, and that your profession should be your passion. Meet the incredible Patty Blake of Denver Deep Ashiatsu Massage. 
Name: Patricia Blake
Location: Denver Deep 5545 W. 38th Ave. Wheat Ridge, CO 80212
Current Title: Owner & Creator of Denver Deep
Education/Training: Licensed Massage Therapist & Certified Rossiter Coach
C+M: Let's start from the beginning. What is Ashiatsu massage and how did you get into it? 
PB: Ashiatsu Massage is a deeper than deep tissue bodywork experience where the Massage Therapist applies the pressure through her feet and employs the use of gravity.  It provides the perfect level of consistent pressure and stretch, where clients can have a pain-free, bruise-free treatment that accesses the deeper muscle layers, tendons, ligaments and connective tissues.
In 2012, I was completing Massage Therapy school in Austin, TX. One morning before our class began, I was flipping through an industry magazine. I saw an ad with a woman performing Ashiatsu, and I had a vision of myself superimposed into the image. I immediately knew that Ashiatsu was my path.
I started studying and training in 2013 with Jeni Spring, the owner and creator of Heeling Sole (an Ashiatsu Massage studio in San Antonio, TX) and the Center for Barefoot Massage. 
Since 2013, I have taken nine trainings with instructors all over the US. I'm obsessed with my craft, and I constantly train with my teachers to be able to assist my clients with the highest level of knowledge and service. 
C+M: What career moves lead you to open your own massage and bodyworks business?
PB: When I was in third grade, my classmate was having a birthday party. His mother had brought an over-abundance of candy, and I organized a handful of classmates to start selling it to other classes. Because I had set-up this candy ring, all of my friends had to report back to me with a cut of their profits. 
When we were caught, my teacher looked into my eyes and said, "one day... you will be quite successful when you open your own business." 
Fast-forward to 2012 - early 2018, I had the opportunity to offer Ashiatsu at a variety of massage studios, chiropractic offices, 5-Star luxury resorts, and spas. 
In my experience, a pain-point for me was having to follow set protocols and not being able to serve my clients the exact treatment for their specific needs. Having my own business allows me to offer unique, customized, treatment specific sessions for what my clients need addressed. 
C+M: If you had to identify one major rule to live life by, what would it be? 
PB: I believe that how you do one thing is how you do everything; therefore, I always make my bed upon rising. It sets the tone for my day to pay attention to details, finish all started tasks, and go the extra mile with everything and everyone. 
C+M: What are some of your other hobbies outside of bodyworks/massaging? 
PB: I love movement, mountains, and all aspects of living my healthiest and biggest life possible. I am a Certified Yoga Instructor, and while I don't teach anymore, I practice almost every day. Cycling has become a new hobby, I love to hike and be in nature, and when I have the time, I read as much as I can (never stop learning). 
C+M: We hear you just started using CM's Massage Oil - what differences have you noticed in your sessions? 
PB: My clients feedback. As I was determining which brand of CBD products I wanted to use for my treatments, I wanted to use what my clients felt had the most effective results. 
C+M: Have you had any feed back from customers about this new product? 
PB: Yes! Most of my clients now upgrade their service to add C+M's oil and pain relief cream. Overall, they have shared how they experience immediate, but more importantly, lasting relief. 
C+M: Is there anyone in particular who helps uplift and motivate you? 
PB: I have been so fortunate to have a circle of cheerleaders; however, my business (and life) mentor/friend supports, encourages, and motivates me to be my best self in every experience. 
C+M: Being a masseuse is a very physically demanding job, do you ever use CM products on yourself to relieve your own body? 
PB: Yes! After a long day, I love to use the C+M cream on my feet (it keeps them extra soft, too). 
C+M: Which C+M product is your favorite and why?
PB: I love all of the C+M products, but my favorite is the CBD Pain Cream. The cooling sensation offers immediate pain relief that lasts. 
C+M: There are so many CBD infused products on the market - why do you choose CAUSE + MEDIC?
PB: I love that every ingredient is consciously selected, responsibly sourced, and cruelty-free. And, on various occasions, the owner of the company has offered to hand-deliver any products ordered. Because of the commitment to establish authentic connections, it shows that the company is dedicated to truly serve their partners with the best products possible. A company that cares about connection is a company that stands by the utmost quality.  
There you have it, friends. We hope you're as inspired by Patty as we are! To book an appointment with Patty, call (720) 710-ASHI or schedule online right here: https://www.denverdeep.com