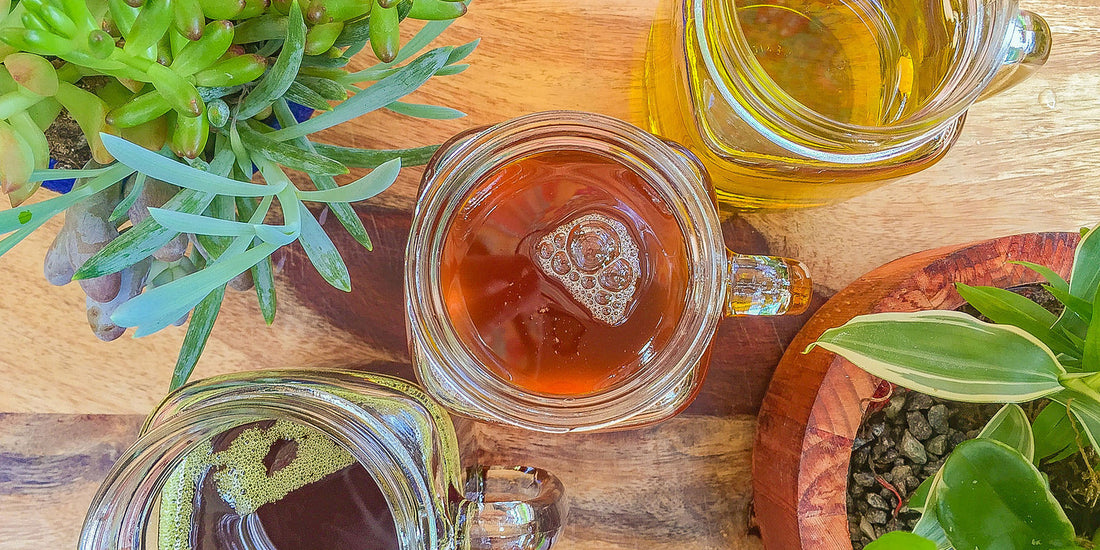 Oil Spiel: Give Your Face an Oil Change
The trend that's here to stay? Oil. Celebrities, beauty editors, and supermodels alike praise plant-based oils for keeping their skin so flawless. With a focus on ingredients and up-to-date products, Korean skincare or K-Beauty is becoming the gold standard for skincare worldwide. This is probably why facial oils are the IT product right now. Yet so many of you don't use oil in your daily regimen. Why? There are too many products claiming to solve all your facial type-woes, and the truth is oils don't work the same for everyone. With so many benefits to be had, we are cutting through the grease out there to choose the right oils for you now.
Myth: Oils will clog your pores.
Fact: All natural oils have a comedogenic rating that determines the degree to which an oil will clog your pores. Argan oil is rated a 0 (meaning it will not clog your pores) while coconut oil is rated a 4 (fairly high indication it will clog your pores). That's why coconut oil works great for some people, but for sensitive/acne-prone skin it can cause irritation and acne flair-ups.
Myth: Oil can replace your moisturizer.
Fact: Oil alone cannot  replace your moisturizer or your serums. Since oils are generally fat-based they typically need another product to help it soak into your skin, i.e. oil will simply "float" on top of your skin without a partner product. Oils work best when applied on top of your moisturizer thereby sealing the moisture in to allow your serums, moisturizers, and treatments to do their thing.
Myth: Oils reverse the signs of aging.
Fact: While most oils do contribute to lightening dark spots, plumping your skin, and fighting wrinkles, oils by themselves are not the end-all-be-all for your face. During the day, too much oil can be too reflective in the sun, which can cause sun damage. Make sure to apply SPF every day to keep your skin glowing and damage-free. Make sure (when you find the oil that's right for you) to select only organic and cold-pressed. This will ensure you get the most added benefits from your facial oil. Applying the oil to your skin after your facial regimen (especially before bedtime) is the best possible time. Burn that midnight oil baby!
So what oils are best for your skin? Our beauty editors agree these oils made the cut:
| | |
| --- | --- |
| | Best used for even the driest/sensitive skin types, Argan oil is a dry oil that goes on smooth and a concentrated anti-oxidant that fights aging. It's also, as we mentioned earlier, rated a 0 on the comedogenic chart meaning it won't clog your pores or cause acne. We use this oil specifically (and for good reason) in our Gateway and Re:Wind Serums. Argan oil is a solid pick to use on your face/body regardless of skin type! |
| | Tried-and-true olive oil has been used since the dawn of the ages… rated a 2 on the comedogenic chart meaning there is a moderately low probability of olive oil clogging your pores. Olive oil can actually protect your skin from UV radiation along with containing anti-oxidants that help your skin cells regenerate. Among its long list of benefits, it contains linoleic acid (vitamin F), which aides in the antioxidants permeating your skin's barrier. This makes it the perfect oil for your lips… hence its purpose in our Lip Rx. Best if used on your lips or body. |
| | We all have been mildly if not obsessively in love with coconut oil. With coconut oil's benefits being flaunted all over social media, it's no wonder we haven't all turned into coconuts! There's no shame in being "coco-nutty." With CO's anti-inflammatory, anti-bacterial, antioxidant rich, and hydrating effects (not to mention it's beachy goodness smell), it's no wonder why we used it in our own Lip Rx and Ink-Wise. Notice it's not in our skin serums? Since CO has a fairly high rating for clogging your pores, we only used it in our products for lips and your righteous ink! Coconut oil is best used anywhere but your face and décolleté. |
| | Obviously, you know our position on this particular oil. Hemp oil is one of the most important oils on our list and is dubbed "Nature's most perfectly balanced oil." It does not contain any psychoactive ingredients so it doesn't get you high, but it contains everything that may give your skin a high. Essential fatty acids, antioxidants, carotene, and a laundry list of other beneficial ingredients. It can be used on your face/body regardless of skin type. For these reasons, we have made hemp oil the star in most of our products like the Gateway Serum, Re:Wind Serum, and Lip Rx. |
| | Jojoba (pronounced ho-HO-ba) is the dark horse in the beauty oil field. Besides being low on the comedogenic ratings (rated 2), it literally mimics your own face oil or sebum creating a sublime balancing act for your skin. Why is this so important? It means that even oily and acne-prone skin types can use this oil! WARNING: a little goes a long way! To avoid too much shine, this oil is best used in your nighttime regimen. We use this oil in our very own Lip Rx, Ink-Wise, and Re:Wind Serum. |
| | Victoria's Secret Angel, Miranda Kerr, loves rose hip seed oil so much she bottled her own! Anything Miranda Kerr does to keep a flawless completion… sign me up. Rose hip seed oil is lighter than most of the other oils out there, and it contains lots of goodies like anti-inflammatory properties, anti-oxidants, vitamin C, and lycopene. With a super low rating on the comedogenic scale (rated a 1), this makes it the perfect oil for sensitive and dry skin types but can be used by any type as well! This oil is best used before/during/after long flights and before going to bed (remember to use on top of your moisturizer). We hope to see more of this miracle oil in the future, but for now it's in our Lip Rx and Ink-Wise. |
Be cautious of the "snake oils" out there. We want you to be informed about the products you use on your biggest and most visible organ.. your skin. CAUSE+MEDIC brings you the holy grail of skincare products that contain oils suitable for all skin types. With pre-sales beginning right now, it's time to join the oil rush! So please... BE KIND TO YOUR SKIN.